Product Summary
The TAJC106K25RNJ is the TAJ series standard tantalum.
Parametrics
TAJC106K25RNJ technical specifications: (1)Capacitance Range: 0.10 μF to 680 μF; (2)Capacitance Tolerance: ±10%; ±20%; (3)Temperature Range: -55 to +125℃; (4)Reliability: 1% per 1000 hours at 85℃, VR with 0.1Ω/V series impedance, 60% confidence level.
Features
TAJC106K25RNJ features: (1)General purpose SMT chip tantalum series; (2)6 case sizes available; (3)Low profile options available; (4)CV range: 0.10-2200μF / 2.5-50V.
Diagrams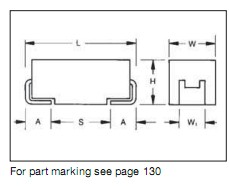 TAJC106K025RNJ

AVX

Tantalum Capacitors - Solid SMD 25volts 10uF 10%

Data Sheet



| | |
| --- | --- |
| 0-1: | $0.41 |
| 1-100: | $0.29 |
| 100-200: | $0.25 |
| 200-500: | $0.18 |


TAJC106K020RNJ

AVX

Tantalum Capacitors - Solid SMD 20volts 10uF 10%

Data Sheet



| | |
| --- | --- |
| 0-1: | $0.27 |
| 1-100: | $0.16 |
| 100-200: | $0.13 |
| 200-500: | $0.11 |


TAJC106K025HNJ

AVX

Tantalum Capacitors - Solid SMD 25volts 10uF 10%

Data Sheet



| | |
| --- | --- |
| 0-1: | $1.92 |
| 1-500: | $1.03 |
| 500-1000: | $0.70 |
| 1000-2500: | $0.65 |


TAJC106K016H

AVX Corporation

CAPACITOR TANT 10UF 16V 10% SMD

Data Sheet



TAJC106K035RNJ

AVX

Tantalum Capacitors - Solid SMD 35volts 10uF 10%

Data Sheet



| | |
| --- | --- |
| 0-1: | $0.78 |
| 1-100: | $0.43 |
| 100-200: | $0.37 |
| 200-500: | $0.26 |


TAJC107K006SNJ

AVX

Tantalum Capacitors - Solid SMD 6.3volts 100uF 10%

Data Sheet



| | |
| --- | --- |
| 0-1: | $0.26 |
| 1-50: | $0.23 |
| 50-100: | $0.20 |
| 100-500: | $0.15 |