Product Summary
The CB2012T220M is a wound chip inductor. It is suitable for DVC, MD, PDA and other portable digital equipment.
Parametrics
CB2012T220M absolute maximum ratings: (1)operating TEMP: -25 to 85℃; (2)Frequency - Self Resonant: 16MHz; (3)DC Resistance (DCR): 2.21 Ohm Max; (4)Inductance :22μH; (5)Tolerance: ±20%; (6)Current: 280mA.
Features
CB2012T220M features: (1)Small size wound chip inductor with high current; (2)Demension without directional influence on mounterbility and characteristics; (3)For DC-DC converter circuit.
Diagrams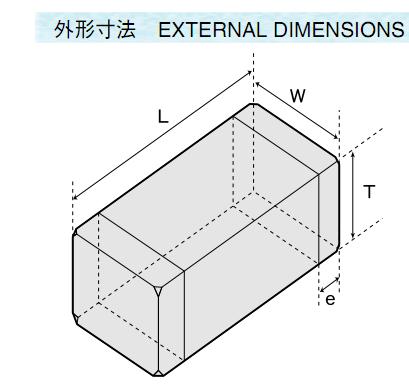 Image
Part No
Mfg
Description
Pricing
(USD)
Quantity

CB2012T220M

Taiyo Yuden

Power Inductors INDCTR HI CUR WND 0805 22uH 20%

Data Sheet



| | |
| --- | --- |
| 0-1: | $0.11 |
| 1-10: | $0.11 |
| 10-50: | $0.10 |
| 50-100: | $0.09 |

Image
Part No
Mfg
Description
Pricing
(USD)
Quantity

CB20110207

Cooper Bussmann

Barrier Terminal Blocks MAGNUM CB2 SERIES

Data Sheet



| | |
| --- | --- |
| 0-1: | $0.60 |
| 1-10: | $0.57 |
| 10-100: | $0.55 |
| 100-250: | $0.52 |


CB20110307

Cooper Bussmann

Barrier Terminal Blocks MAGNUM CB2000 SERIES

Data Sheet



| | |
| --- | --- |
| 0-1: | $0.90 |
| 1-10: | $0.86 |
| 10-100: | $0.83 |
| 100-250: | $0.78 |


CB20110407MP

Cooper Bussmann

Barrier Terminal Blocks MAGNUM CB2 SERIES

Data Sheet



| | |
| --- | --- |
| 0-270: | $1.29 |
| 270-500: | $1.22 |
| 500-1000: | $1.16 |
| 1000-2000: | $1.08 |


CB20110509EBMP8

Cooper Bussmann

Barrier Terminal Blocks MAGNUM CB2000 SERIES

Data Sheet



| | |
| --- | --- |
| 0-270: | $2.06 |
| 270-500: | $1.95 |
| 500-1000: | $1.85 |
| 1000-2000: | $1.73 |


CB20111007

Cooper Bussmann

Barrier Terminal Blocks TERMINAL BLOCK

Data Sheet



| | |
| --- | --- |
| 0-270: | $2.60 |
| 270-500: | $2.46 |
| 500-1000: | $2.33 |
| 1000-2000: | $2.19 |


CB20111007MP

Cooper Bussmann

Barrier Terminal Blocks MAGNUM CB2

Data Sheet



| | |
| --- | --- |
| 0-270: | $2.85 |
| 270-500: | $2.70 |
| 500-1000: | $2.56 |
| 1000-2000: | $2.40 |