Product Summary
The BLF278 is a dual push-pull silicon N-channel enhancement mode vertical D-MOS transistor, which is encapsulated in a 4-lead, SOT262A1 balanced flange package with two ceramic caps. The mounting flange of the BLF278 provides the common source connection for the transistors. The applications of the include broadcast transmitters in the VHF frequency range.
Parametrics
BLF278 absolute maximum ratings: (1)drain-source voltage: 110 V; (2)gate-source voltage: ±20 V; (3)drain current (DC): 18 A; (4)total power dissipation: 500 W at up to Tmb = 25 ℃ total device; both sections equally loaded; (5)storage temperature: -65 to 150 ℃; (6)junction temperature: 200 ℃.
Features
BLF278 features: (1)High power gain; (2)Easy power control; (3)Good thermal stability; (4)Gold metallization ensures excellent reliability.
Diagrams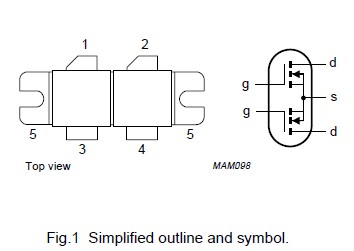 Image
Part No
Mfg
Description
Pricing
(USD)
Quantity

BLF278

Advanced Semiconductor, Inc.

Transistors RF MOSFET Power RF Transistor

Data Sheet



| | |
| --- | --- |
| 0-5: | $96.59 |
| 5-10: | $93.00 |
| 10-25: | $88.59 |
| 25-50: | $87.60 |


BLF278,112

NXP Semiconductors

Transistors RF MOSFET Power RF DMOS 250W VHF

Data Sheet



BLF278/01,112

NXP Semiconductors

Transistors RF MOSFET Power TRANSISTOR VHF PWR LDMOS

Data Sheet