Product Summary
The MBR10100G is a switch mode power rectifier. It uses the Schottky Barrier principle with a platinum barrier metal.
Parametrics
MBR10100G absolute maximum ratings: (1)Peak Repetitive Reverse Voltage, VRRM: 100V; (2)Working Peak Reverse Voltage, VRWM: 100V; (3)DC Blocking Voltage, VR: 100V; (4)Average Rectified Forward Current (Rated VR) TC = 133℃, IF(AV): 10 A; (5)Peak Repetitive Forward Current (Rated VR, Square Wave, 20 kHz) TC = 133℃, IFRM: 20 A; (6)Nonrepetitive Peak Surge Current, IFSM: 150 A; (7)Peak Repetitive Reverse Surge Current, IRRM: 0.5 A; (8)Operating Junction Temperature, TJ: -65 to +175℃; (9)Storage Temperature, Tstg: -65 to +175℃; (10)Voltage Rate of Change (Rated VR), dv/dt: 10,000 V/μs.
Features
MBR10100G features: (1)Guard-Ring for Stress Protection; (2)Low Forward Voltage; (3)175℃ Operating Junction Temperature; (4)Epoxy Meets UL 94 V-0 @ 0.125 in; (5)Low Power Loss/High Efficiency; (6)High Surge Capacity; (7)Low Stored Charge Majority Carrier Conduction; (8)Pb-Free Packages are Available.
Diagrams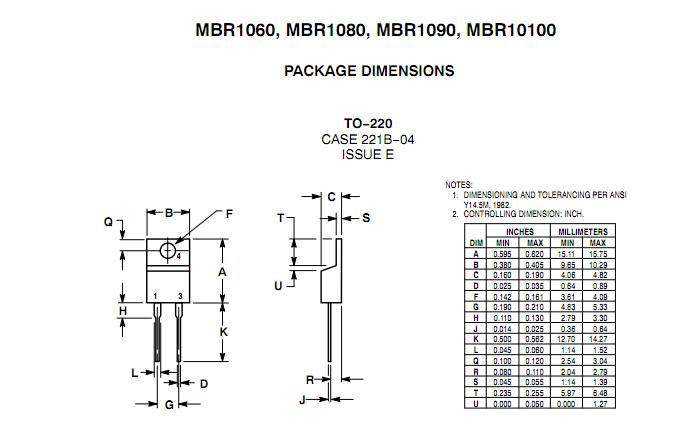 Image
Part No
Mfg
Description
Pricing
(USD)
Quantity

MBR10100G

ON Semiconductor

Schottky (Diodes & Rectifiers) 10A 100V

Data Sheet



| | |
| --- | --- |
| 0-1: | $0.68 |
| 1-25: | $0.54 |
| 25-100: | $0.42 |
| 100-500: | $0.37 |

Image
Part No
Mfg
Description
Pricing
(USD)
Quantity

MBR10

Other



Data Sheet

Negotiable

MBR10.. Series

Other



Data Sheet

Negotiable

MBR10..PbF Series

Other



Data Sheet

Negotiable

MBR10/15/25/35/50A

Other



Data Sheet

Negotiable

MBR10/15/25/35/50AW

Other



Data Sheet

Negotiable

MBR100CT-1

Other



Data Sheet

Negotiable