Product Summary
The 10BQ040TRPBF is a surface-mount Schottky rectifier. It has been designed for applications requiring low forward drop and very small foot prints on PC boards. Typical applications of the 10BQ040TRPBF are in disk drives, switching power supplies, converters, free-wheeling diodes, battery charging, and reverse battery protection.

Parametrics
10BQ040TRPBF absolute maximum ratings: (1)IF(AV), Rectangular waveform: 1.0 A; (2)VRRM: 40 V; (3)IFSM @ tp = 5 μs sine: 430 A; (4)VF @ 1.0 Apk, TJ=125℃: 0.49 V; (5)TJ range: - 55 to 150℃.
Features
10BQ040TRPBF features: (1)Small foot print, surface mountable; (2)Low forward voltage drop; (3)High frequency operation; (4)Guard ring for enhanced ruggedness and long term; (5)reliability; (6)Lead-Free (PbF suffix).
Diagrams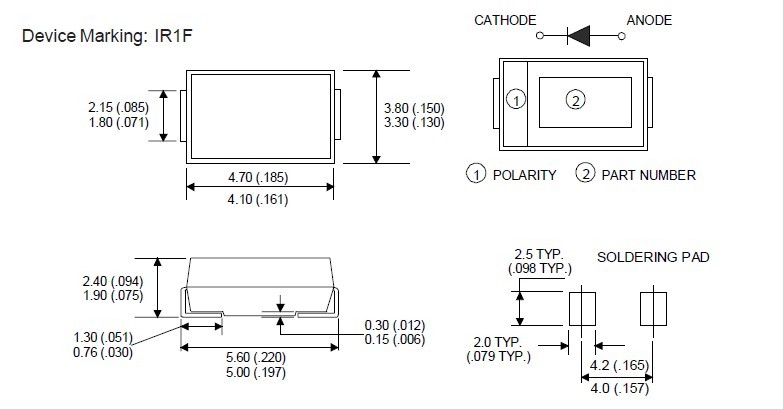 Image
Part No
Mfg
Description
Pricing
(USD)
Quantity

10BQ040TRPBF



DIODE SCHOTTKY 40V 1A SMB

Data Sheet



| | |
| --- | --- |
| 0-1: | $0.31 |
| 1-10: | $0.25 |
| 10-25: | $0.22 |
| 25-100: | $0.19 |
| 100-250: | $0.16 |
| 250-500: | $0.14 |
| 500-1000: | $0.11 |

Image
Part No
Mfg
Description
Pricing
(USD)
Quantity

10BQ015

Vishay Semiconductors

Schottky (Diodes & Rectifiers) 1.0 Amp 15 Volt

Data Sheet

Negotiable

10BQ030PBF



DIODE SCHOTTKY 30V 1A SMB

Data Sheet



| | |
| --- | --- |
| 0-1: | $0.29 |
| 1-10: | $0.25 |
| 10-25: | $0.22 |
| 25-100: | $0.19 |
| 100-250: | $0.16 |
| 250-500: | $0.14 |
| 500-1000: | $0.10 |
| 1000-2500: | $0.10 |
| 2500-5000: | $0.09 |


10BQ030TRPBF



DIODE SCHOTTKY 30V 1A SMB

Data Sheet



| | |
| --- | --- |
| 0-1: | $0.34 |
| 1-10: | $0.27 |
| 10-25: | $0.24 |
| 25-100: | $0.20 |
| 100-250: | $0.18 |
| 250-500: | $0.15 |
| 500-1000: | $0.12 |


10BQ040PBF



DIODE SCHOTTKY 40V 1A SMB

Data Sheet



| | |
| --- | --- |
| 0-1: | $0.27 |
| 1-10: | $0.23 |
| 10-25: | $0.20 |
| 25-100: | $0.17 |
| 100-250: | $0.15 |
| 250-500: | $0.12 |
| 500-1000: | $0.10 |
| 1000-2500: | $0.09 |
| 2500-5000: | $0.08 |


10BQ040TRPBF



DIODE SCHOTTKY 40V 1A SMB

Data Sheet



| | |
| --- | --- |
| 0-1: | $0.31 |
| 1-10: | $0.25 |
| 10-25: | $0.22 |
| 25-100: | $0.19 |
| 100-250: | $0.16 |
| 250-500: | $0.14 |
| 500-1000: | $0.11 |


10BQ060

Vishay Semiconductors

Schottky (Diodes & Rectifiers) 1.0 Amp 60 Volt

Data Sheet

Negotiable