Product Summary
The CC0805ZKY5V6BB106 is a surface-mount ceramic multilayer capacitor. It consists of a rectangular block of ceramic dielectric in which a number of interleaved metal electrodes are contained. This structure gives rise to a high capacitance per unit volume. The CC0805ZKY5V6BB106 is designed for consumer electronics, such as: tuners, television receivers, video recorders, all types of cameras, mobile telephones.
Parametrics
CC0805ZKY5V6BB106 specifications: (1)Capacitance range: 10 nF to 47 μF; (2)Capacitance tolerance: ±20%/–20% to +80%; (3)Insulation resistance after 1 minute at Ur (DC): Rins ≥ 10 GΩ or Rins × Cr ≥ 500 seconds whichever is less; (4)Maximum capacitance change as a function of temperature(temperature characteristic/coefficient): +22% to –82%; (5)Operating temperature range: –30 ℃ to +85 ℃.
Features
CC0805ZKY5V6BB106 features: (1)Supplied in tape on reel; (2)Nickel-barrier end termination; (3)RoHS compliant; (4)Halogen Free compliant.
Diagrams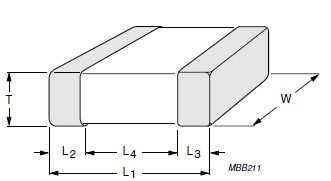 Image
Part No
Mfg
Description
Pricing
(USD)
Quantity

CC0805ZKY5V6BB106

Yageo

Multilayer Ceramic Capacitors (MLCC) - SMD/SMT 1.0uF 10V Y5V-20/+80%

Data Sheet



| | |
| --- | --- |
| 0-1: | $0.05 |
| 1-50: | $0.02 |
| 50-100: | $0.01 |
| 100-1000: | $0.01 |
| 1000-3000: | $0.01 |

Image
Part No
Mfg
Description
Pricing
(USD)
Quantity

CC0805-880J-2

Gowanda Electronics

RF Inductors 880nH 5%

Data Sheet



| | |
| --- | --- |
| 0-2500: | $0.11 |
| 2500-5000: | $0.10 |
| 5000-10000: | $0.09 |
| 10000-12500: | $0.08 |


CC0805BPNPO9BN1R0

Yageo

Multilayer Ceramic Capacitors (MLCC) - SMD/SMT 1.0pF 50V NPO 0.1pF

Data Sheet



| | |
| --- | --- |
| 0-20000: | $0.02 |
| 20000-40000: | $0.02 |
| 40000-60000: | $0.02 |
| 60000-80000: | $0.02 |


CC0805BPNPO9BN1R2

Yageo

Multilayer Ceramic Capacitors (MLCC) - SMD/SMT 1.2pF 50V NPO 0.1pF

Data Sheet



| | |
| --- | --- |
| 0-20000: | $0.01 |
| 20000-40000: | $0.01 |
| 40000-60000: | $0.01 |
| 60000-80000: | $0.01 |


CC0805BPNPO9BN8R2

Yageo

Multilayer Ceramic Capacitors (MLCC) - SMD/SMT 8.2pF 50V NPO 0.1pF

Data Sheet



| | |
| --- | --- |
| 0-20000: | $0.01 |
| 20000-40000: | $0.01 |
| 40000-60000: | $0.01 |
| 60000-80000: | $0.01 |


CC0805BRNPO9BN1R0

Yageo

Multilayer Ceramic Capacitors (MLCC) - SMD/SMT 1.0pF 50V NPO 0.1pF

Data Sheet



| | |
| --- | --- |
| 0-4000: | $0.02 |
| 4000-20000: | $0.02 |
| 20000-40000: | $0.01 |
| 40000-60000: | $0.01 |


CC0805BRNPO9BN1R2

Yageo

Multilayer Ceramic Capacitors (MLCC) - SMD/SMT 1.2pF 50V NPO 0.1pF

Data Sheet



| | |
| --- | --- |
| 0-4000: | $0.01 |
| 4000-20000: | $0.01 |
| 20000-40000: | $0.01 |
| 40000-60000: | $0.01 |