Product Summary
The TPSD686M016R0070 is a SMD tantalum capacitor.
Parametrics
TPSD686M016R0070 technical specifications: (1)Capacitance Range: 0.15 μF to 1500 μF; (2)Capacitance Tolerance: ±10%; ±20%; (3)Rated Voltage (VR): 2.5V; (4)Category Voltage: 1.7V; (5)Surge Voltage (VS): 3.3V; (6)Surge Voltage (VS): 2.2V; (7)Temperature Range: -55℃ to +125℃; (8)Environmental Classification: 55/125/56 (IEC 68-2); (9)Reliability: 1% per 1000 hours at 85℃.
Features
TPSD686M016R0070 features: (1)Low ESR series of robust Mn02 solid electrolyte capacitors; (2)CV range: 0.15-1500μF / 2.5-50V; (3)14 case sizes available; (4)Power supply applications.
Diagrams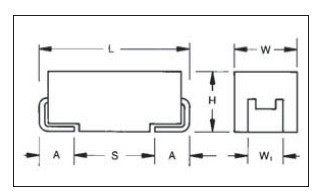 Image
Part No
Mfg
Description
Pricing
(USD)
Quantity

TPSD686M016R0070

AVX

Tantalum Capacitors - Solid SMD 68UF 16V 7343-31

Data Sheet



| | |
| --- | --- |
| 0-1: | $3.38 |
| 1-50: | $2.82 |
| 50-100: | $2.26 |
| 100-500: | $1.69 |

Image
Part No
Mfg
Description
Pricing
(USD)
Quantity

TPSD107K010S0150

AVX

Tantalum Capacitors - Solid SMD 10volts 100uF 10%

Data Sheet



| | |
| --- | --- |
| 0-1390: | $0.54 |
| 1390-2000: | $0.53 |
| 2000-5000: | $0.50 |
| 5000-10000: | $0.48 |


TPSD107K020R0200

AVX

Tantalum Capacitors - Solid SMD 20volts 100uF 10%

Data Sheet



| | |
| --- | --- |
| 0-1: | $3.56 |
| 1-50: | $3.12 |
| 50-100: | $2.97 |
| 100-500: | $1.51 |


TPSD107M010H0100

AVX

Tantalum Capacitors - Solid SMD 100uF 10V 20% L ESR

Data Sheet



| | |
| --- | --- |
| 0-1: | $1.82 |
| 1-50: | $1.50 |
| 50-100: | $1.26 |
| 100-500: | $0.82 |


TPSD107K016S0100

AVX

Tantalum Capacitors - Solid SMD 16volts 100uF 10%

Data Sheet



| | |
| --- | --- |
| 0-1450: | $0.89 |
| 1450-2000: | $0.86 |
| 2000-5000: | $0.84 |


TPSD107M010S0050

AVX

Tantalum Capacitors - Solid SMD 10volts 100uF 20%

Data Sheet



TPSD156K035R0300

AVX

Tantalum Capacitors - Solid SMD 15UF 35V 10% D

Data Sheet



| | |
| --- | --- |
| 0-1: | $1.48 |
| 1-10: | $1.22 |
| 10-100: | $1.03 |
| 100-500: | $0.58 |