Product Summary
The Single Op Amplifier LM321MFX brings performance and economy to low power systems. With a high unity gain frequency and a guaranteed 0.4V/μs slew rate, the quiescent current is only 430μA/amplifier (5V). The input common mode range includes ground and therefore the LM321MFX is able to operate in single supply applications as well as in dual supply applications. The applications of the LM321MFX are: Chargers, Power supplies, Industrial: controls, instruments, Desktops, Communications infrastructure.
Parametrics
LM321MFX absolute maximum ratings: (1)Differential Input Voltage: ±Supply Voltage; (2)Input Current (VIN < -0.3V): 50mA; (3)Supply Voltage (V+ - V-): 32V; (4)Input Voltage: -0.3V to +32V; (5)Output Short Circuit to GND, V+≤15V and TA = 25℃: Continuous; (6)Storage Temperature Range: -65℃ to 150℃; (7)Junction Temperature: 150℃; (8)Mounting Temperature Lead Temp (Soldering, 10 sec): 260℃; (9)Mounting Temperature Infrared (10 sec): 215℃; (10)Thermal Resistance to Ambient (θJA): 265℃/W; (11)ESD Tolerance: 300V.
Features
LM321MFX features: (1)Gain-Bandwidth product 1MHz; (2)Low supply current 430μA; (3)Low input bias current 45nA; (4)Wide supply voltage range +3V to +32V; (5)Stable with high capacitive loads; (6)Single version of LM324.
Diagrams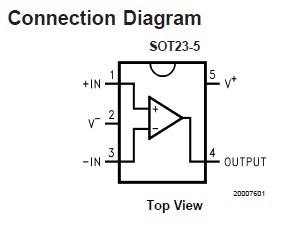 Image
Part No
Mfg
Description
Pricing
(USD)
Quantity

LM321MFX

National Semiconductor (TI)

Operational Amplifiers - Op Amps

Data Sheet



| | |
| --- | --- |
| 0-3000: | $0.16 |
| 3000-6000: | $0.15 |
| 6000-12000: | $0.15 |


LM321MFX/NOPB

National Semiconductor (TI)

Operational Amplifiers - Op Amps LOW PWR SGL OP AMP

Data Sheet



| | |
| --- | --- |
| 0-1: | $0.50 |
| 1-25: | $0.39 |
| 25-100: | $0.34 |
| 100-250: | $0.30 |