Product Summary
The LL4148 is a fast switching surface mount diode.
Parametrics
LL4148 absolute maximum ratings: (1)Peak Reverse Voltage, VRM: 100 V; (2)Maximum Average Forward Current at Ta=25℃ And f >50Hz, IAV: 150 mA; (3)Surge Forward Current at t < 1s and Tj= =25℃, IFSM: 500 mA; (4)Power Dissipation at Tamb= 25℃, PTOT: 500 mW; (5)Maximum Forward Voltage at IF =10mA, VF: 1.0 V; (6)Maximum Leakage Current, at VR =20V, IR:25 nA; (7)Maximum Capacitance at VF =VR =0, CJ: 4 pF; (8)Maximum reverse recovery time from IF = -IR = 10mA to IRR = -1mA, VR = 100Ω, trr: 4 ns; (9)Maximum Thermal Resistance, RθJA: 300℃/ W; (10)Junction Temperature and Storage Temperature Range, TJ,TS: -65 to +175℃.
Features
LL4148 features: (1)Fast switching Speed; (2)Surface Mount Package Ideally Suited For Automatic Insertion; (3)Silicon Epitaxal Planar Construction; (4)In compliance with EU RoHS 2002/95/EC directives.
Diagrams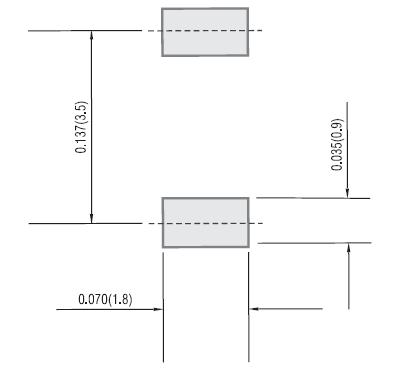 Image
Part No
Mfg
Description
Pricing
(USD)
Quantity

LL4148

Taiwan Semiconductor

Diodes (General Purpose, Power, Switching) 1500W 20V 5% UNI TRANSZORB-TVS

Data Sheet



LL4148L

Taiwan Semiconductor

Diodes (General Purpose, Power, Switching) 1500W 20V 5% UNI TRANSZORB-TVS

Data Sheet



LL4148-GS18

Vishay Semiconductors

Diodes (General Purpose, Power, Switching) 100 Volt 450mA

Data Sheet



| | |
| --- | --- |
| 0-1: | $0.03 |
| 1-10: | $0.03 |
| 10-100: | $0.02 |
| 100-250: | $0.02 |


LL4148-GS08

Vishay Semiconductors

Diodes (General Purpose, Power, Switching) 100V Io/150mA T/R

Data Sheet



| | |
| --- | --- |
| 0-1: | $0.03 |
| 1-10: | $0.03 |
| 10-50: | $0.02 |
| 50-100: | $0.02 |


LL4148-7

Diodes Inc.

Diodes (General Purpose, Power, Switching) 500mW 75V

Data Sheet



| | |
| --- | --- |
| 0-1: | $0.30 |
| 1-10: | $0.20 |
| 10-100: | $0.10 |
| 100-250: | $0.07 |


LL4148-13

Diodes Inc.

Diodes (General Purpose, Power, Switching) 500mW 75V

Data Sheet



| | |
| --- | --- |
| 0-1: | $0.30 |
| 1-10: | $0.20 |
| 10-100: | $0.10 |
| 100-250: | $0.07 |