Product Summary
The GRM21BR71E104KA01L is a Chip Monolithic Ceramic Capacitor. The applications of the device include General electronic equipment.
Parametrics
GRM21BR71E104KA01L absolute maximum ratings: (1)referance temperature: 25℃; (2)temperature range: -55 to 150℃; (3)capacitance change: ±15%; (4)operating temperature range: -55 to 125℃; (5)rated voltage: DC25V; (6)capacitance: 100000pF.
Features
GRM21BR71E104KA01L features: (1)Terminations are made of metal highly resistant to migration; (2)The GRM series is a complete line of chip ceramic capacitors in 6.3V, 10V, 16V, 25V, 50V, 100V, 200V and 500V ratings. These capacitors have temperature characteristics ranging from C0G to Y5V; (3)A wide selection of sizes is available, from the miniature LxWxT: 1.0x0.5x0.5mm to LxWxT: 3.2x1.6x1.6mm. GRM18, 21 and GRM31 types are suited to flow and reflow soldering. GRM15 type is applied to only reflow soldering.
Diagrams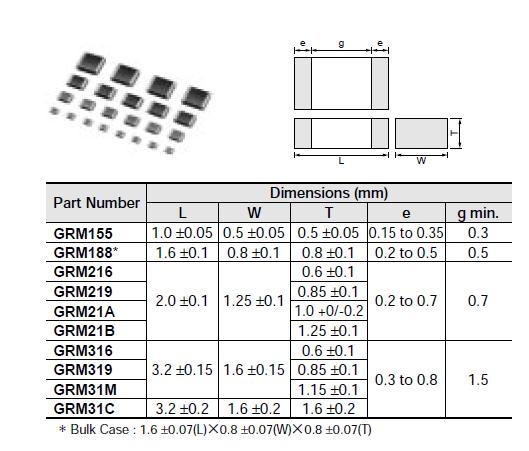 Image
Part No
Mfg
Description
Pricing
(USD)
Quantity

GRM21BR71E104KA01L

Murata

Multilayer Ceramic Capacitors (MLCC) - SMD/SMT 0805 0.1uF 25volts X7R 10%

Data Sheet



| | |
| --- | --- |
| 0-1: | $0.06 |
| 1-50: | $0.01 |
| 50-100: | $0.01 |
| 100-500: | $0.01 |

Image
Part No
Mfg
Description
Pricing
(USD)
Quantity

GRM2161C1H100JD01D

Murata

Multilayer Ceramic Capacitors (MLCC) - SMD/SMT 0805 10pF 50volts CH 5%

Data Sheet



| | |
| --- | --- |
| 0-1: | $0.06 |
| 1-50: | $0.02 |
| 50-100: | $0.02 |
| 100-500: | $0.01 |


GRM2161C1H180JZ01D

Murata

Multilayer Ceramic Capacitors (MLCC) - SMD/SMT 0805 18pF 50volts CH 5%

Data Sheet



| | |
| --- | --- |
| 0-1: | $0.06 |
| 1-50: | $0.02 |
| 50-100: | $0.02 |
| 100-500: | $0.01 |


GRM2161C1H391JA01D

Murata

Multilayer Ceramic Capacitors (MLCC) - SMD/SMT 0805 390pF 50volts CH 5%

Data Sheet



| | |
| --- | --- |
| 0-1: | $0.06 |
| 1-50: | $0.03 |
| 50-100: | $0.02 |
| 100-500: | $0.02 |


GRM2161C1H151JA01D

Murata

Multilayer Ceramic Capacitors (MLCC) - SMD/SMT 0805 150pF 50volts CH 5%

Data Sheet



| | |
| --- | --- |
| 0-1: | $0.06 |
| 1-50: | $0.02 |
| 50-100: | $0.02 |
| 100-500: | $0.01 |


GRM2161C1H102JA01D

Murata

Multilayer Ceramic Capacitors (MLCC) - SMD/SMT 0805 1000pF 50volts CH 5%

Data Sheet



| | |
| --- | --- |
| 0-1: | $0.06 |
| 1-50: | $0.03 |
| 50-100: | $0.02 |
| 100-500: | $0.02 |


GRM2161X1H5R0CD01D

Murata

Multilayer Ceramic Capacitors (MLCC) - SMD/SMT 0805 5.0pF 50volts SL +/-0.25pF

Data Sheet



| | |
| --- | --- |
| 0-1: | $0.06 |
| 1-50: | $0.02 |
| 50-100: | $0.02 |
| 100-500: | $0.01 |