Product Summary
The 08051C102KAT2A is a 1000pF Automotive MLCC.
Parametrics
08051C102KAT2A general specifications: (1)Category:Capacitors ; (2)Capacitance:1000pF ; (3)Voltage - Rated: 100V ; (4)Tolerance:±10% ; (5)Package / Case:0805 (2012 Metric) ; (6)Temperature Coefficient:X7R ; (7)Packaging:Cut Tape (CT) ; (8)Operating Temperature:-55℃ to 125℃; (9)Mounting Type:Surface Mount, MLCC ; (10)Lead Free Status:Lead Free ; (11)RoHS Status:RoHS Compliant.
Features
08051C102KAT2A features: features: (1)voltage:7V; (2)capacitance:1000pF; (3)capacitance tolerance:±10%; (4)terminations:plated Ni and Sn; (5)package:7 reel.
Diagrams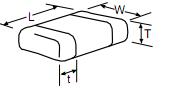 Image
Part No
Mfg
Description
Pricing
(USD)
Quantity

08051C102KAT2A

AVX

Multilayer Ceramic Capacitors (MLCC) - SMD/SMT 0805 1000pF 100volts X7R 10%

Data Sheet



| | |
| --- | --- |
| 0-1: | $0.06 |
| 1-50: | $0.05 |
| 50-100: | $0.03 |
| 100-500: | $0.02 |

Image
Part No
Mfg
Description
Pricing
(USD)
Quantity

0805001

Phoenix Contact

Terminal Block Tools & Accessories 4.2mm BLANK STRIPS ZB-4

Data Sheet



| | |
| --- | --- |
| 0-1: | $1.30 |
| 1-10: | $1.20 |
| 10-50: | $1.07 |
| 50-100: | $1.00 |


0805027

Phoenix Contact

Terminal Block Tools & Accessories SK 2.5/3.8: SO CUSTOM PRINTNG

Data Sheet

Negotiable

0805030

Phoenix Contact

Terminal Block Tools & Accessories SK 3.5/2.8: SO CUSTOM PRINTNG

Data Sheet

Negotiable

0805043

Phoenix Contact

Terminal Block Tools & Accessories SK 3.5/3.8: SO CUSTOM PRINTNG

Data Sheet

Negotiable

0805056

Phoenix Contact

Terminal Block Tools & Accessories SK 3.81/2.8: SO

Data Sheet

Negotiable

0805069

Phoenix Contact

Terminal Block Tools & Accessories SK 9.5/5: SO CUSTOM PRINTNG

Data Sheet

Negotiable