Product Summary
The RC2010JK-07100KL is a 0.75W surface mount chip resistor. The application of it is All general purpose application.
Parametrics
RC2010JK-07100KL electrical characteristics: (1)Operating Temperature Range:–55℃ to +155℃; (2)Maximum Working Voltage:200V; (3)Maximum Overload Voltage:500V; (4)Dielectric Withstanding Voltage:500V; (5)Rated current:2A; (6)Maximum current:10A.
Features
RC2010JK-07100KL features: (1)Halogen Free Epoxy; (2)RoHS compliant:Products with lead free terminations meet RoHS requirements; (3)Pb-glass contained in electrodes, resistor element and glass are exempted by RoHS; (4)Reducing environmentally hazardous wastes; (5)High component and equipment reliability; (6)Saving of PCB space; (7)None forbidden-materials used in products/production.
Diagrams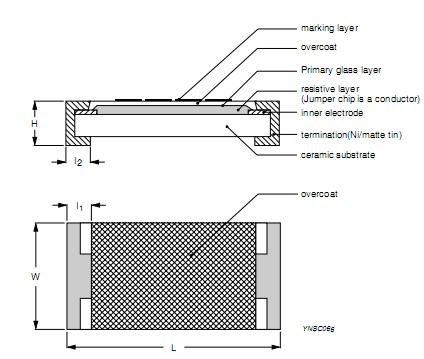 Image
Part No
Mfg
Description
Pricing
(USD)
Quantity

RC2010JK-07100KL

Yageo

Thick Film Resistors - SMD 100K OHM 5%

Data Sheet



| | |
| --- | --- |
| 0-4000: | $0.05 |
| 4000-8000: | $0.04 |
| 8000-12000: | $0.03 |
| 12000-28000: | $0.03 |

Image
Part No
Mfg
Description
Pricing
(USD)
Quantity

RC2010FK-0712KL

Yageo

Thick Film Resistors - SMD 12K OHM 1%

Data Sheet



| | |
| --- | --- |
| 0-4000: | $0.08 |
| 4000-8000: | $0.07 |
| 8000-12000: | $0.06 |
| 12000-28000: | $0.05 |


RC2010FK-0722K1L

Yageo

Thick Film Resistors - SMD 22.1K OHM 1%

Data Sheet



| | |
| --- | --- |
| 0-1: | $0.10 |
| 1-50: | $0.09 |
| 50-100: | $0.09 |
| 100-1000: | $0.08 |
| 1000-4000: | $0.08 |


RC2010FK-071K8L

Yageo

Thick Film Resistors - SMD 1.8K OHM 1%

Data Sheet



| | |
| --- | --- |
| 0-1: | $0.10 |
| 1-50: | $0.09 |
| 50-100: | $0.09 |
| 100-1000: | $0.08 |
| 1000-4000: | $0.08 |


RC2010FK-071KL

Yageo

Thick Film Resistors - SMD 1K OHM 1%

Data Sheet



| | |
| --- | --- |
| 0-1: | $0.10 |
| 1-50: | $0.09 |
| 50-100: | $0.09 |
| 100-1000: | $0.08 |
| 1000-4000: | $0.08 |


RC2010FK-07280RL

Yageo

Thick Film Resistors - SMD 280 OHM 1%

Data Sheet



| | |
| --- | --- |
| 0-4000: | $0.08 |
| 4000-8000: | $0.07 |
| 8000-12000: | $0.06 |
| 12000-28000: | $0.05 |


RC2010FK-0747KL

Yageo

Thick Film Resistors - SMD 47K OHM 1%

Data Sheet



| | |
| --- | --- |
| 0-1: | $0.10 |
| 1-50: | $0.09 |
| 50-100: | $0.09 |
| 100-1000: | $0.08 |
| 1000-4000: | $0.08 |