Product Summary
The MC7805BDTRKG is a 1.0 A positive voltage regulator. It is designed as fixed-voltage, regulators for a wide variety of applications including local, on-card regulation. The MC7805BDTRKG employs internal current limiting, thermal shutdown, and safe-area compensation. With adequate heatsinking they can deliver output currents in excess of 1.0 A. Although designed primarily as a fixed voltage regulator, the MC7805BDTRKG can be used with external components to obtain adjustable voltages and currents.
Parametrics
MC7805BDTRKG absolute maximum ratings: (1)Input Voltage (5.0 - 18 V) VI: 35 Vdc; (2)Power Dissipation PD: Internally Limited W; (3)Thermal Resistance, Junction.to.Ambient RθJA: 92 ℃/W; (4)Thermal Resistance, Junction.to.Case RθJC: 5.0 ℃/W; (5)Storage Junction Temperature Range Tstg: -65 to +150 ℃; (6)Operating Junction Temperature TJ: +150 ℃.
Features
MC7805BDTRKG features: (1)Output Current in Excess of 1.0 A; (2)No External Components Required; (3)Internal Thermal Overload Protection; (4)Internal Short Circuit Current Limiting; (5)Output Transistor Safe-Area Compensation; (6)Output Voltage Offered in 1.5%, 2% and 4% Tolerance; (7)Available in Surface Mount D2PAK-3, DPAK-3 and Standard 3-Lead Transistor Packages; (8)NCV Prefix for Automotive and Other Applications Requiring Unique Site and Control Change Requirements; AEC-Q100 Qualified and PPAP Capable; (9)Pb-Free Packages are Available.
Diagrams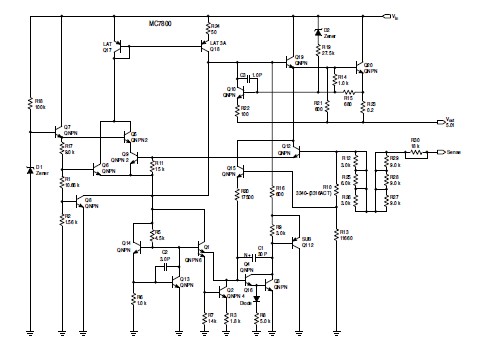 Image
Part No
Mfg
Description
Pricing
(USD)
Quantity

MC7805BDTRKG

ON Semiconductor

Linear Regulators - Standard 5V 1A Postive

Data Sheet



| | |
| --- | --- |
| 0-1: | $0.37 |
| 1-25: | $0.29 |
| 25-100: | $0.25 |
| 100-500: | $0.19 |

Image
Part No
Mfg
Description
Pricing
(USD)
Quantity

MC7800

Other



Data Sheet

Negotiable

MC7800A

Other



Data Sheet

Negotiable

MC7805ABD2TR4G

ON Semiconductor

Linear Regulators - Standard 5V 1A Postive

Data Sheet



| | |
| --- | --- |
| 0-1: | $0.55 |
| 1-25: | $0.44 |
| 25-100: | $0.38 |
| 100-500: | $0.30 |
| 500-800: | $0.30 |


MC7805ABD2TG

ON Semiconductor

Linear Regulators - Standard 5V 1A Postive

Data Sheet



| | |
| --- | --- |
| 0-1: | $0.52 |
| 1-25: | $0.46 |
| 25-100: | $0.31 |
| 100-500: | $0.27 |


MC7805ABD2TR4

ON Semiconductor

Linear Regulators - Standard 5V 1A Postive

Data Sheet

Negotiable

MC7805ABD2T

ON Semiconductor

Linear Regulators - Standard 5V 1A Postive

Data Sheet

Negotiable