Product Summary
The 74VHC221AMTCX is an advanced high speed CMOS Monostable Multivibrator fabricated with silicon gate CMOS technology. It achieves the high speed operation similar to equivalent Bipolar Schottky TTL while maintaining the CMOS low power dissipation. The 74VHC221AMTCX can be triggered on the positive transition of the clear while A is held LOW and B is held HIGH. The 74VHC221AMTCX is non-retriggerable, and therefore cannot be retriggered until the output pulse times out.
Parametrics
74VHC221AMTCX absolute maximum ratings: (1)Supply Voltage (VCC): -0.5V to +7.0V; (2)DC Input Voltage (VIN): -0.5V to +7.0V; (3)DC Output Voltage (VOUT): -0.5 to VCC +0.5V; (4)Input Diode Current (IIK): -20 mA; (5)Output Diode Current (IOK): ±20 mA; (6)DC Output Current (IOUT): ±25 mA; (7)DC VCC/Current (ICC): ±50 mA; (8)Storage Temperature (TSTG): -65 to 150℃; (9)Lead Temperature (TL): 260℃.
Features
74VHC221AMTCX features: (1)High Speed: tPD = 8.1 ns (typ) at VCC = 5V; (2)Low Power Dissipation: ICC = 4 μA (Max) at TA = 25℃; (3)Active State: ICC = 600 μA (Max) at TA = 25℃; (4)High Noise Immunity: VNIH = VNIL = 28% VCC (min); (5)Power down protection is provided on all inputs; (6)Pin and function compatible with 74HC221A.
Diagrams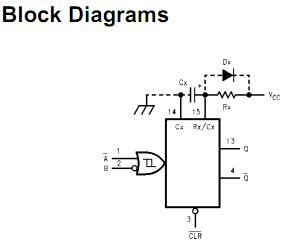 Image
Part No
Mfg
Description
Pricing
(USD)
Quantity

74VHC221AMTCX

Fairchild Semiconductor

Monostable Multivibrator Dual Multivibrator

Data Sheet



| | |
| --- | --- |
| 0-1: | $0.41 |
| 1-25: | $0.32 |
| 25-100: | $0.28 |
| 100-250: | $0.24 |


74VHC221AMTCX_NL

Fairchild Semiconductor

Monostable Multivibrator FINISHED GOOD

Data Sheet

Negotiable