Product Summary
The CDRH10D48MNNP-470NC is a power inductor.
Parametrics
CDRH10D48MNNP-470NC absolute maximum ratings: (1)Inductance 100kHz/1V: 470μH±25%; (2)D.C.R.(mΩ) Max.(Typ.) (at 20℃): 965(772)mΩ; (3)Saturation Current (at20℃): 0.80A; (at105℃): 0.62A; (4)Temperature rise current: 0.49A.
Features
CDRH10D48MNNP-470NC features: (1)Magnetically shielded construction.; (2)Hybrid power inductors use Mn-Zn D.core & Ni-Zn R.core, used as general power inductors.; (3)Higher saturation current characteristics than that of Ni-Zn inductors.; (4)Usually used in LCD driver,DSC/DVC,Notebook PC or the other portable equipment; (5)RoHS Compliance.
Diagrams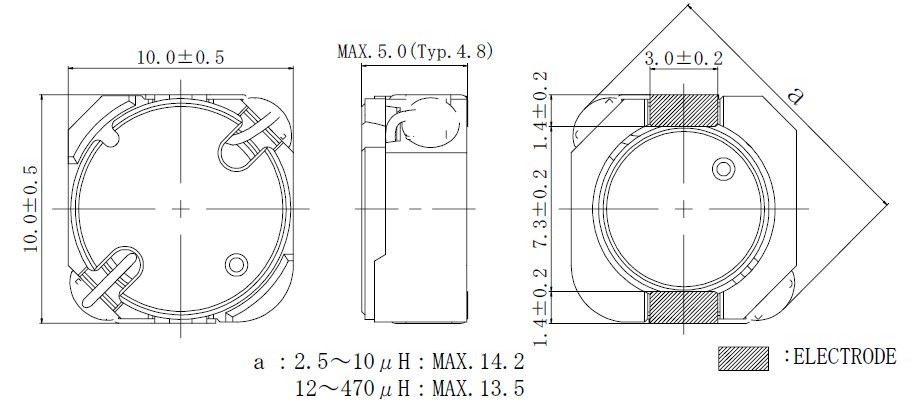 CDRH103RNP-0R8NC-B

Sumida

Power Inductors 0.8uH 11A 0.0044ohm

Data Sheet



| | |
| --- | --- |
| 0-1: | $1.24 |
| 1-10: | $0.83 |
| 10-100: | $0.75 |
| 100-500: | $0.68 |
| 500-1000: | $0.58 |


CDRH103RNP-100NC-B

Sumida

Power Inductors 10uH 3.18A 0.045ohms

Data Sheet



| | |
| --- | --- |
| 0-1: | $1.24 |
| 1-10: | $0.83 |
| 10-100: | $0.75 |
| 100-500: | $0.68 |
| 500-1000: | $0.58 |


CDRH103RNP-101NC-B

Sumida

Power Inductors 100uH 1.02A 0.525ohm

Data Sheet



| | |
| --- | --- |
| 0-1: | $1.24 |
| 1-10: | $0.83 |
| 10-100: | $0.75 |
| 100-500: | $0.68 |
| 500-1000: | $0.58 |


CDRH103RNP-121NC-B

Sumida

Power Inductors 120uH 0.89A 0.58ohms

Data Sheet



| | |
| --- | --- |
| 0-1: | $1.24 |
| 1-10: | $0.83 |
| 10-100: | $0.75 |
| 100-500: | $0.68 |
| 500-1000: | $0.58 |


CDRH103RNP-150NC-B

Sumida

Power Inductors 15uH 2.6A 0.07ohms

Data Sheet



| | |
| --- | --- |
| 0-1: | $1.24 |
| 1-10: | $0.83 |
| 10-100: | $0.75 |
| 100-500: | $0.68 |
| 500-1000: | $0.58 |


CDRH103RNP-151NC-B

Sumida

Power Inductors 150uH 0.84A 0.67ohms

Data Sheet



| | |
| --- | --- |
| 0-1: | $1.24 |
| 1-10: | $0.83 |
| 10-100: | $0.75 |
| 100-500: | $0.68 |
| 500-1000: | $0.58 |