Product Summary
The LM3445MM is an adaptive constant off-time AC/DC buck (step-down) constant current controller designed to be compatible with triac dimmers. The LM3445MM provides a constant current for illuminating high power LEDs and includes a triac dim decoder. The dim decoder allows wide range LED dimming using standard triac dimmers. The high frequency capable architecture allows the use of small external passive components. The LM3445MM includes a bleeder circuit to ensure proper triac operation by allowing current flow while the line voltage is low to enable proper firing of the triac. The applications of the device include Retro Fit Triac Dimming, Solid State Lighting, Industrial and Commercial Lighting and Residential Lighting.
Parametrics
LM3445MM absolute maximum ratings: (1)BLDR to GND: -0.3V to +17V; (2)VCC, GATE, FLTR1 to GND: -0.3V to +14V; (3)ISNS to GND: -0.3V to +2.5V; (4)ASNS, DIM, FLTR2, COFF to GND: -0.3V to +7.0V; (5)COFF Input Current: 100mA; (6)Continuous Power Dissipation: Internally Limited; (7)Junction Temperature (TJ-MAX): 150℃; (8)Storage Temperature Range: -65℃ to +150℃; (9)Maximum Lead Temp. Range (Soldering): 260℃.
Features
LM3445MM features: (1)Triac dim decoder circuit for LED dimming; (2)Application voltage range 80VAC – 277VAC; (3)Capable of controlling LED currents greater than 1A; (4)Adjustable switching frequency; (5)Low quiescent current; (6)Adaptive programmable off-time allows for constant ripple current; (7)Thermal shutdown; (8)No 120Hz flicker; (9)Low profile 10 pin MSOP Package or 14 pin SOIC; (10)Patent pending drive architecture.
Diagrams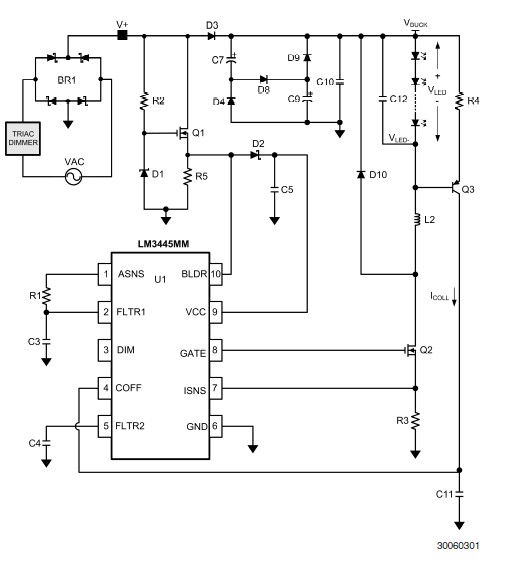 Image
Part No
Mfg
Description
Pricing
(USD)
Quantity

LM3445MM/NOPB

National Semiconductor (TI)

LED Lighting Drivers TRIAC DIMMABLE OFF LINE LED DRVR

Data Sheet



| | |
| --- | --- |
| 0-1: | $0.97 |
| 1-10: | $0.87 |
| 10-25: | $0.77 |
| 25-100: | $0.53 |


LM3445MMX/NOPB

National Semiconductor (TI)

LED Lighting Drivers

Data Sheet



| | |
| --- | --- |
| 0-2800: | $0.49 |
| 2800-3000: | $0.48 |
| 3000-3500: | $0.48 |