Product Summary
The 400USC330MSN30X35 is a large can type aluminum electrolytic capacitor.
Parametrics
400USC330MSN30X35 absolute maximum ratings: (1)Category Temperature Range: -40 to +85℃; (2)Rated Voltage Range: 10 to 250V.DC; (3)Capacitance Tolerance: ±20% (20℃, 120Hz).
Features
400USC330MSN30X35 features: (1)Load Life : 85℃ 3000 hours; (2)Smaller size with higher ripple current endurance than USR series; (3)RoHS compliance.
Diagrams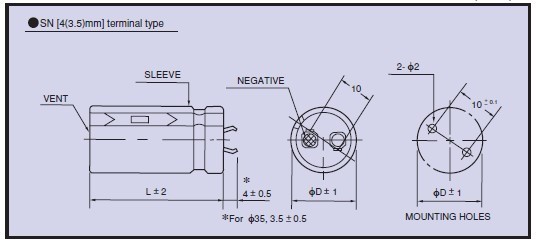 400U120D



DIODE STD RECVRY 1200V 400A DO9

Data Sheet



| | |
| --- | --- |
| 0-1: | $32.73 |
| 1-10: | $30.80 |
| 10-100: | $27.44 |
| 100-250: | $25.99 |
| 250-500: | $25.03 |
| 500-1000: | $24.07 |
| 1000-2500: | $23.58 |
| 2500-5000: | $23.10 |


400U160D



DIODE STD RECVRY 1600V 400A DO-9

Data Sheet



400U80D



DIODE STD RECVRY 800V 400A DO-9

Data Sheet



400UR120D



DIODE STD RECVRY 1200V 400A DO-9

Data Sheet



400UR160D



DIODE STD RECVRY 1600V 400A DO-9

Data Sheet



400USC220MEFCSN25X35



CAP ALUM 220UF 400V 20% SNAP-IN

Data Sheet