Product Summary
The STR710FZ2T6 is an ARM-powered 32-bit Microcontroller with embedded Flash and RAM. It combines the high performance ARM7TDMI CPU with an extensive range of peripheral functions and enhanced I/O capabilities. STR710FZ2T6 device has on-chip high-speed single voltage FLASH memory and high-speed RAM. STR710FZ2T6 device has high-speed RAM but no internal Flash. The STR710FZ2T6 has an embedded ARM core and is therefore compatible with all ARM tools and software.
Parametrics
STR710FZ2T6 absolute maximum ratings: (1)V33- VSS External 3.3V Supply voltage(including AVDD and V33IOPLL): -0.3 to 4.0V; (2)V18BKP - VSSBKP: -0.3 to 2.0V; (3)VIN Input voltage on true open drain pin (P0.10) 1): VSS-0.3 to +5.5; (4)Input voltage on any other pin: VSS-0.3 to V33+0.3; (5)|ΔV33x| Variations between different 3.3V power pins: 50V; (6)|ΔV18x| Variations between different 1.8V power pins: 25mV; (7)|VSSX - VSS| Variations between all the different ground pins: 50mV.
Features
STR710FZ2T6 features: (1)ARM7TDMI 32-bit RISC CPU; (2)59 MIPS @ 66 MHz from SRAM; (3)45 MIPS @ 50 MHz from Flash; (4)Up to 256Kbytes Flash program memory (10 kcycles endurance, 20 yrs retention @ 85℃); (5)16K bytes Flash data memory (100 kcycles endurance, 20 yrs retention@ 85℃); (6)Up to 64 Kbytes RAM; (7)External Memory Interface (EMI) for up to 4 banks of SRAM, Flash, ROM; (8)Multi-boot capability; (9)3.0 to 3.6V application supply and I/Os; (10)Internal 1.8V regulator for core supply; (11)Clock input from 0 to 16.5 MHz; (12)Embedded RTC oscillator running from external 32 kHz crystal; (13)Embedded PLL for CPU clock; (14)Realtime Clock for clock-calendar function; (15)5 power saving modes: SLOW, WAIT, LPWAIT, STOP and STANDBY modes.
Diagrams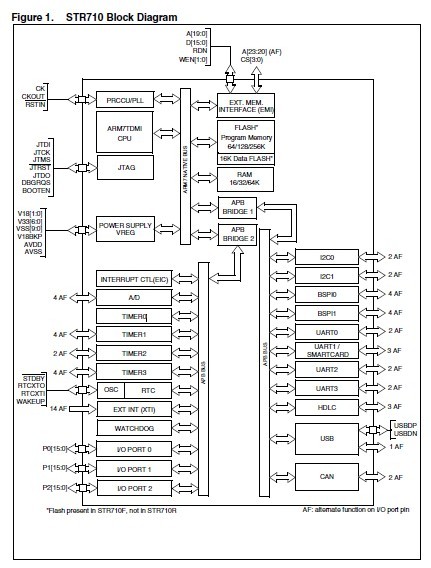 Image
Part No
Mfg
Description
Pricing
(USD)
Quantity

STR710FZ2T6

STMicroelectronics

ARM Microcontrollers (MCU) 256K Flash 64K RAM

Data Sheet



| | |
| --- | --- |
| 0-1: | $7.46 |
| 1-10: | $7.11 |
| 10-100: | $6.59 |
| 100-250: | $5.57 |

Image
Part No
Mfg
Description
Pricing
(USD)
Quantity

STR710-EVAL

STMicroelectronics

Development Boards & Kits - ARM STR71X Eval Board

Data Sheet



STR710FZ2T6

STMicroelectronics

ARM Microcontrollers (MCU) 256K Flash 64K RAM

Data Sheet



| | |
| --- | --- |
| 0-1: | $7.46 |
| 1-10: | $7.11 |
| 10-100: | $6.59 |
| 100-250: | $5.57 |


STR711-SK/IAR

STMicroelectronics

Development Boards & Kits - ARM Starter Kit for STR711 Series

Data Sheet



STR712-SK/IAR

STMicroelectronics

Development Boards & Kits - ARM Starter Kit for STR712 Series

Data Sheet



STR710-SK/HIT

STMicroelectronics

Development Boards & Kits - ARM HITEX DEV KIT STR710 EVAL BRD

Data Sheet

Negotiable

STR720-EVAL

STMicroelectronics

Development Boards & Kits - ARM 16/32-BITS MICROS Eval Board

Data Sheet

Negotiable