Product Summary
The 12107C103KAT2A is a 10000pF Automotive MLCC. Its temperature variation of capacitance is within ±15% from -55℃ to +125℃. This capacitance change is non-linear. Capacitance for X7R varies under the influence of electrical operating conditions such as voltage and frequency.
Parametrics
12107C103KAT2A general specifications: (1)Category:Capacitors ; (2)Capacitance:10000pF ; (3)Voltage - Rated: 500V ; (4)Tolerance:±10% ; (5)Package / Case:1210 (3225 Metric) ; (6)Temperature Coefficient:X7R ; (7)Packaging:Cut Tape (CT) ; (8)Operating Temperature:-55℃ to 125℃; (9)Mounting Type:Surface Mount, MLCC ; (10)Lead Free Status:Lead Free ; (11)RoHS Status:RoHS Compliant.
Features
12107C103KAT2A features: (1)voltage:7V; (2)capacitance:10000pF; (3)capacitance tolerance:±10%; (4)terminations:plated Ni and Sn; (5)package:7 reel.
Diagrams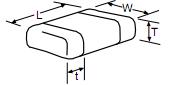 Image
Part No
Mfg
Description
Pricing
(USD)
Quantity

12107C103KAT2A

AVX

Multilayer Ceramic Capacitors (MLCC) - SMD/SMT 1210 0.01uF 500volts X7R 10%

Data Sheet



| | |
| --- | --- |
| 0-1: | $0.60 |
| 1-50: | $0.40 |
| 50-100: | $0.29 |
| 100-500: | $0.22 |

Image
Part No
Mfg
Description
Pricing
(USD)
Quantity

1210

Heyco

Cable Mounting & Accessories SR 6P-4 Straight-Thru

Data Sheet



| | |
| --- | --- |
| 0-1: | $0.10 |
| 1-100: | $0.07 |
| 100-500: | $0.06 |
| 500-1000: | $0.05 |


1210 RF Coated Choke

Other



Data Sheet

Negotiable

1210 series

Other



Data Sheet

Negotiable

121000101

C&K Components

Switch Hardware WHITE ACTUATOR CAP NYLON

Data Sheet



| | |
| --- | --- |
| 0-1: | $0.78 |
| 1-25: | $0.75 |
| 25-50: | $0.72 |
| 50-100: | $0.69 |


121000102

C&K Components

Switch Hardware Hardware

Data Sheet



| | |
| --- | --- |
| 0-1: | $0.46 |
| 1-25: | $0.44 |
| 25-100: | $0.42 |
| 100-250: | $0.40 |


1210-0-05-00-00-00-01-0

Mill-Max

Circuit Board Hardware - PCB PRESS FIT WRAPOST TERMINALS

Data Sheet



| | |
| --- | --- |
| 0-1: | $0.15 |
| 1-10: | $0.13 |
| 10-100: | $0.12 |
| 100-500: | $0.11 |