Product Summary
The MRF6VP2600HR5 is a RF Power Field Effect Transistor. It is designed primarily for wideband applications with frequencies up to 500 MHz. The MRF6VP2600HR5 is unmatched and is suitable for use in broadcast applications.
Parametrics
MRF6VP2600HR5 absolute maximum ratings: (1)Drain--Source Voltage VDSS:-0.5, +110 Vdc; (2)Gate--Source Voltage VGS:-6.0, +10 Vdc; (3)Storage Temperature Range Tstg:- 65 to +150℃; (4)Case Operating Temperature TC:150℃; (5)Operating Junction Temperature: 225℃.
Features
MRF6VP2600HR5 features: (1)Characterized with Series Equivalent Large--Signal Impedance Parameters; (2)CW Operation Capability with Adequate Cooling; (3)Qualified Up to a Maximum of 50 VDD Operation; (4)Integrated ESD Protection; (5)Designed for Push--Pull Operation; (6)Greater Negative Gate--Source Voltage Range for Improved Class C Operation; (7)RoHS Compliant; (8)In Tape and Reel. R6 Suffix = 150 Units per 56 mm, 13 inch Reel.
Diagrams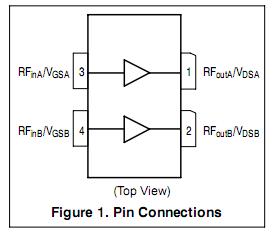 Image
Part No
Mfg
Description
Pricing
(USD)
Quantity

MRF6VP2600HR5

Freescale Semiconductor

Transistors RF MOSFET Power VHV6 600W 225MHZ NI1230

Data Sheet



| | |
| --- | --- |
| 0-1: | $87.84 |
| 1-25: | $84.91 |
| 25-50: | $78.11 |

Image
Part No
Mfg
Description
Pricing
(USD)
Quantity

MRF607

Other



Data Sheet

Negotiable

MRF616

Other



Data Sheet

Negotiable

MRF627

Other



Data Sheet

Negotiable

MRF630

Other



Data Sheet

Negotiable

MRF6414

Other



Data Sheet

Negotiable

MRF650

TriQuint Semiconductor

RF Amplifier RF Bipolar Trans

Data Sheet

Negotiable