Product Summary
The 0451001.MRL is a very small, Wire-in-Air (WIA) square shape surface mount fuse which is very suitable for the secondary side circuit over-current protection applications and is designed for PCB using surface mount technology. The applications of the 0451001.MRL include Notebook PC, LCD/PDP TV , LCD monitor, LCD/PDP panel, LCD backlight inverter, Portable DVD player, Power supply, Networking , PC server, Cooling fan system, Storage system, Telecom system, Wireless basestation, White goods, Game console, Office Automation equipment, Battery charging circuit protection, Industrial equipment, Medical equipment and Automotive.
Parametrics
0451001.MRL absolute maximum ratings: (1)Operating Temperature: -55 to 125℃; (2)Pre Heat, Temperature Min (Ts(min)): 150℃; Temperature Max (Ts(max)): 200℃; Time (Min to Max) (ts): 60 – 120 secs; (3)Average ramp up rate (Liquidus Temp (TL) to peak: 5℃/second max; (4)TS(max) to TL - Ramp-up Rate: 5℃/second max.; (5)Reflow, Temperature (TL) (Liquidus): 217℃; Temperature (tL): 60 – 90 seconds; (6)Peak Temperature (TP): 250+0/-5 ℃; (7)Time within 5℃ of actual peak Temperature (tp): 20 – 40seconds; (8)Ramp-down Rate: 5℃/second max; (9)Time 25℃ to peak Temperature (TP): 8 minutes max.; (10)Do not exceed: 260℃; (11)Wave Soldering Parameters: 260℃ Peak Temperature, 10 seconds max.
Features
0451001.MRL features: (1)Very fast acting; (2)Small size; (3)Wide range of current rating available (62mA to 15A); (4)Wide operating temperature range; (5)Low temperature de-rating; (6)RoHS compliant; (7)Halogen Free.
Diagrams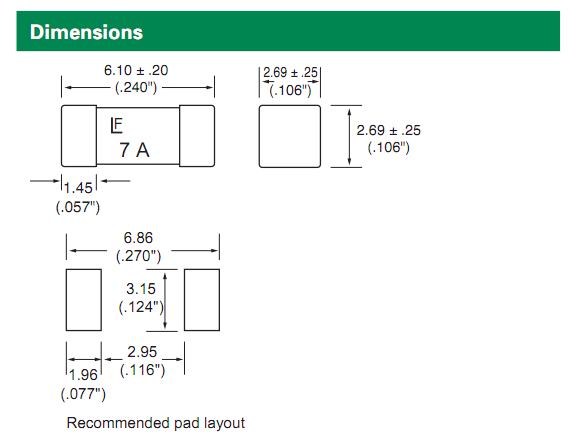 Image
Part No
Mfg
Description
Pricing
(USD)
Quantity

0451001.MRL

Littelfuse

Fuses 125V 1A

Data Sheet



| | |
| --- | --- |
| 0-1: | $0.56 |
| 1-10: | $0.55 |
| 10-100: | $0.48 |
| 100-250: | $0.44 |

Image
Part No
Mfg
Description
Pricing
(USD)
Quantity

0451.062MR

Littelfuse

Fuses 125V.062A

Data Sheet



| | |
| --- | --- |
| 0-1: | $0.96 |
| 1-10: | $0.91 |
| 10-100: | $0.86 |
| 100-250: | $0.81 |


0451.062MRL

Littelfuse

Fuses 125V.062A

Data Sheet



| | |
| --- | --- |
| 0-1: | $1.32 |
| 1-10: | $1.12 |
| 10-100: | $0.95 |
| 100-250: | $0.90 |


0451.062NR

Littelfuse

Fuses 125V .062A W/AG Caps

Data Sheet



| | |
| --- | --- |
| 0-3460: | $0.70 |
| 3460-5000: | $0.67 |
| 5000-10000: | $0.65 |


0451.062NRL

Littelfuse

Fuses 125V .062A V/FA NANO2 W/Au

Data Sheet



| | |
| --- | --- |
| 0-3790: | $0.62 |
| 3790-5000: | $0.59 |


0451.080MR

Littelfuse

Fuses 125V .8A W/AG Caps

Data Sheet



| | |
| --- | --- |
| 0-640: | $0.76 |
| 640-1000: | $0.72 |
| 1000-2000: | $0.70 |
| 2000-5000: | $0.67 |


0451.080MRL

Littelfuse

Fuses 125V.08A

Data Sheet



| | |
| --- | --- |
| 0-1: | $1.32 |
| 1-10: | $1.12 |
| 10-100: | $0.82 |
| 100-250: | $0.77 |