Product Summary
The TAJB226K020RNJ is a surface mount tantalum capacitor. AVX Paignton is the Divisional Headquarters for the Tantalum division which has manufacturing locations in Paignton in the UK, Biddeford in Maine, USA, Juarez in Mexico, Lanskroun in the Czech Republic and El Salvador. The TAJB226K020RNJ takes its name from the raw material used to make its main products, Tantalum Capacitors. The TAJB226K020RNJ is an element extracted from ores found alongside tin and niobium deposits; the major sources of supply are Canada, Brazil and Australasia.
Parametrics
TAJB226K020RNJ absolute maximum ratings: (1)Capacitance: 22μf; (2)DCL: 2.2μA; (3)DF: 6%; (4)ESR: 2.4Ω.
Features
TAJB226K020RNJ features: (1)Temperature Range: -55℃ to +125℃; (2)Environmental Classification: 55/125/56 (IEC 68-2); (3)Reliability: 1% per 1000h at 85℃ with 0.1Ω/V series impedance, 60% confidence level.
Diagrams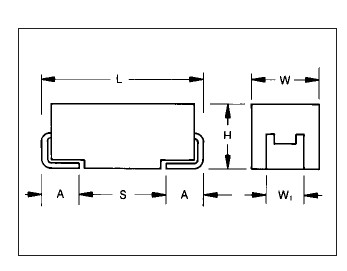 Image
Part No
Mfg
Description
Pricing
(USD)
Quantity

TAJB226K020RNJ

AVX

Tantalum Capacitors - Solid SMD 20volts 22uF 10%

Data Sheet



| | |
| --- | --- |
| 0-1: | $0.51 |
| 1-100: | $0.20 |
| 100-200: | $0.18 |
| 200-500: | $0.16 |

Image
Part No
Mfg
Description
Pricing
(USD)
Quantity

TAJB106K010RNJ

AVX

Tantalum Capacitors - Solid SMD 10volts 10uF 10%

Data Sheet



| | |
| --- | --- |
| 0-1: | $0.08 |
| 1-100: | $0.06 |
| 100-200: | $0.05 |
| 200-500: | $0.05 |


TAJB106K016HNJ

AVX

Tantalum Capacitors - Solid SMD 16volts 10uF 10%

Data Sheet



| | |
| --- | --- |
| 0-750: | $0.66 |
| 750-1000: | $0.59 |
| 1000-2000: | $0.46 |
| 2000-4000: | $0.45 |


TAJB105M050ANJ

AVX

Tantalum Capacitors - Solid SMD 50volts 1.0uF 20%

Data Sheet



| | |
| --- | --- |
| 0-900: | $0.96 |
| 900-1000: | $0.88 |
| 1000-2000: | $0.62 |
| 2000-5000: | $0.58 |


TAJB106K010YNJ

AVX

Tantalum Capacitors - Solid SMD 10volts 10uF 10%

Data Sheet



| | |
| --- | --- |
| 0-3400: | $0.10 |
| 3400-5000: | $0.09 |
| 5000-10000: | $0.07 |
| 10000-25000: | $0.06 |


TAJB106M016RNJ

AVX

Tantalum Capacitors - Solid SMD 16volts 10uF 20%

Data Sheet



| | |
| --- | --- |
| 0-1: | $0.08 |
| 1-100: | $0.06 |
| 100-500: | $0.05 |
| 500-1000: | $0.05 |
| 1000-2000: | $0.05 |


TAJB106M006RNJ

AVX

Tantalum Capacitors - Solid SMD 6.3volts 10uF 20%

Data Sheet



| | |
| --- | --- |
| 0-1: | $0.19 |
| 1-50: | $0.13 |
| 50-100: | $0.11 |
| 100-500: | $0.08 |