Product Summary
The 2N7002 is an N-channel enhancement mode vertical D-MOS transistor in a SOT23 envelope. The 2N7002 is designed for use as a Surface Mounted Device (SMD) in thin and thick-film circuits, with applications in relay, high-speed and line transformer drivers.
Parametrics
2N7002 limiting values: (1)drain-source voltage: 60 V; (2)gate-source voltage open drain: 40 V; (3)drain current DC value: 180 mA; (4)drain current peak value: 800 mA; (5)storage temperature range: -65 to 150℃; (6)junction temperature: 150℃.
Features
2N7002 features: (1)Direct interface to C-MOS, TTL, etc.; (2)High-speed switching; (3)No secondary breakdown.
Diagrams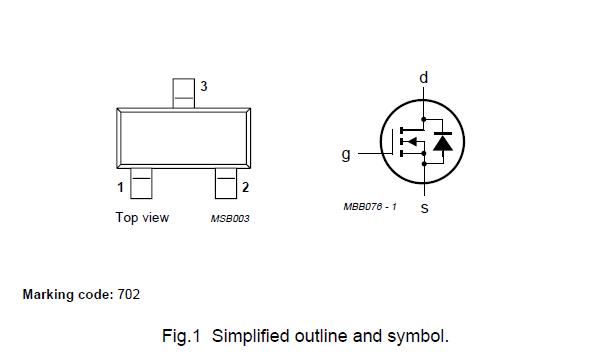 Image
Part No
Mfg
Description
Pricing
(USD)
Quantity

2N7002 T&R 3000 PCS

Central Semiconductor

MOSFET N-Ch 5V .2A

Data Sheet

Negotiable

2N7002(Z)

Other



Data Sheet

Negotiable

2N7002,215

NXP Semiconductors

MOSFET N-CH TRNCH 60V 300MA

Data Sheet



| | |
| --- | --- |
| 0-1: | $0.03 |
| 1-25: | $0.01 |
| 25-100: | $0.01 |
| 100-250: | $0.01 |


2N7002\E9

Vishay Semiconductors

MOSFET SOT-23 N-CH 60V 0.25

Data Sheet

Negotiable

2N7002_D87Z

Fairchild Semiconductor

MOSFET N-Ch Enhancement Mode Field Effect

Data Sheet



| | |
| --- | --- |
| 0-1: | $0.18 |
| 1-25: | $0.16 |
| 25-100: | $0.09 |
| 100-250: | $0.06 |


2N7002_Q

Fairchild Semiconductor

MOSFET N-CHANNEL 60V 115mA

Data Sheet

Negotiable

2N7002_S00Z

Fairchild Semiconductor

MOSFET

Data Sheet

Negotiable

2N7002-7

Diodes Inc.

MOSFET 60V 200mW

Data Sheet

Negotiable