Product Summary
The SLF12565T-101M1R6-PF is a SMD Inductor(Coil) For Power Line(Wound, Magnetic Shielded). The applications of the device include Portable telephones, personal computers, hard disk drives, and other electronic equipment.
Parametrics
SLF12565T-101M1R6-PF absolute maximum ratings: (1)inductance: 100μH; (2)inductance tolerance: ±20%; (3)test frequency L: 1kHz; (4)DC resistance: 0.123Ω; (5)rated current, based on inductance change: 1.6A max; based on temperature rise: 1.9A max.
Features
SLF12565T-101M1R6-PF features: (1)The SLF series are characterized by low profile, low DC resistance, and high current handling capacities; (2)Because they are magnetically shielded, these parts can be used in high-density mounting configurations; (3)Flat bottom surface ensures secure, reliable mounting; (4)Provided in embossed carrier tape packaging for use with automatic mounting machines.
Diagrams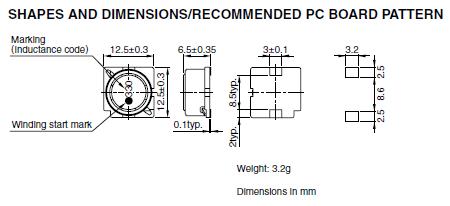 Image
Part No
Mfg
Description
Pricing
(USD)
Quantity

SLF12565T-101M1R6-PF

TDK

Power Inductors SMD 100uH 1.6amps

Data Sheet



| | |
| --- | --- |
| 0-1: | $1.97 |
| 1-10: | $1.56 |
| 10-100: | $1.20 |
| 100-500: | $0.53 |

Image
Part No
Mfg
Description
Pricing
(USD)
Quantity

SLF10145T-100M2R5

TDK

Power Inductors 10uH 20% 2.5A

Data Sheet

Negotiable

SLF10145T-100M2R5-H

TDK

Power Inductors 10uH 2.5A

Data Sheet



| | |
| --- | --- |
| 0-1: | $1.08 |
| 1-50: | $0.81 |
| 50-100: | $0.72 |
| 100-500: | $0.32 |


SLF10145T-100M2R5-PF

TDK

Power Inductors SMD 10uH 2.5amps

Data Sheet



| | |
| --- | --- |
| 0-1: | $1.06 |
| 1-10: | $0.88 |
| 10-100: | $0.70 |
| 100-500: | $0.31 |


SLF10145T-101M1R0

TDK

Power Inductors 100uH 20% 1A

Data Sheet



| | |
| --- | --- |
| 0-1: | $1.06 |
| 1-100: | $0.70 |
| 100-500: | $0.31 |
| 500-1000: | $0.29 |


SLF10145T-101M1R0-H

TDK

Power Inductors 100uH 1.0A

Data Sheet



| | |
| --- | --- |
| 0-1: | $1.08 |
| 1-50: | $0.81 |
| 50-100: | $0.72 |
| 100-500: | $0.32 |


SLF10145T-101M1R0-PF

TDK

Power Inductors SMD 100uH 1.0amps

Data Sheet



| | |
| --- | --- |
| 0-1: | $0.70 |
| 1-10: | $0.65 |
| 10-100: | $0.50 |
| 100-500: | $0.31 |